The optical characteristics of the KITE LYNX HD + range are truly unique and a result of state of the art engineering. This instrument is conceived to offer perfectly natural colour rendition and wide angle views that no other binoculars will match. The exceptional wide angle view will allow you to make faster observations and determinations, and will elevate viewing comfort and quality of image perception to unseen levels.
Enjoy the exceptionally wide field of view capabilities of the Lynx HD+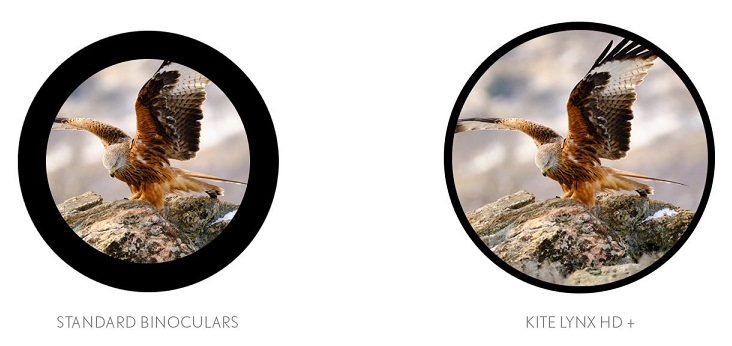 Due to the revolutionary optical system Kite Optics has created, the LYNX HD+ is made to be suited for all conditions and circumstances. This instrument goes beyond the limits of any other binocular and brings you great advantages when observing over both long and short distances. You will see faster on long distances with little points of reference, such as the observation of birds in the sky or over the sea. You will see an increased amount of detail and therefore on shorter distances and in denser areas such as forests, you will have better orientation capability, seeing faster and catching important details in the out of centre view that would otherwise be missed.
The LYNX HD+ is truly amazing, because in spite of all its optical technology, it is one of the smallest and lightest binoculars ever made and is compact enough to fit in the pockets of your coat.
Key features:
World leading field of view
Ultra light
Ultra compact
Neutral colour rendition
HD optical system
KITE PERMAVISION (water-dirt repelling)
KITE PERMARESIST (enhanced scratch resistance)
Aluminium twist-up eyecups, self removable
KITE MHR Advance + coating
Fully waterproof and nitrogen filled
30 year manufacturer's warranty
Includes rainguard, objective lens covers, strap and case
Specification:
Field of view: 120m
Minimum Focus: 1.3m
Eye Relief: 15mm
Exit Pupil: 3mm
Interpupillary Distance: 73-55mm
Height x Width: 117mm x 115mm
Weight: 499g